Saint Joseph Cuvée Sphéérique 2014. Domaine des Amphores.
Wine Nature, biodynamic
Wine Nature, without sulfur, the cuvée " Sphé-érique " is the sole wine produced biodynamically by the Domaine des Amphores on the Saint-Joseph appellation. This can be a micro-cuvée Domaine, very interesting because it could be set alongside the other two St.
Joseph created by the Estate, and see what work biodynamic brings to the wine. Indeed, the cépée Sphéérique presents a taste panel "wide", a scale of flavors quite extraordinary and a "relief" in the mouth very vast.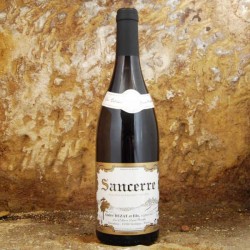 Tasting:
Your wine features a nice freshness on the nose with notes of mint and liquorice. On the palate, we first spot the lightness and elegance with this very digestible wine. The explosion of red fruits, raspberry, strawberry and currant gives solution to an elaborate structure supported by way of a slight acidity.
On the palate, your wine is full and particularly expressive. The tannins exist but subtle. An actual success offering an accomplished and greedy Syrah.
Learn more details sancerre vin